What is Remote Computer Support ?
We offer an affordable online remote computer repair service & support. Our expert, friendly technicians LogOn remotely to your PC or Mac remove Viruses, Malware, Strange Pop-Ups and repair slow starts, blue screen errors and any other computer problems you may have. And all this while you watch and without leaving the comfort of your home.
How it Work ?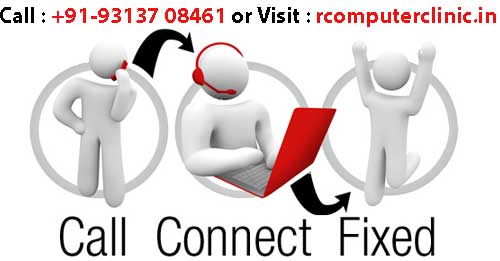 Step 1 : Call us at +91-93137 08461 & tell you problem and get time shedule
Step 2 : Connect us though Internet using secure connection
Step 3 : Now with a Free Diagnostic Evaluation! Some fixes are simple and we have been known to fix a simple fix during the diagnosis at no cost! Most of the technical glich we can fix it remotely! Plus our work is 100% Guaranteed! "If We Can't Fix It - You Don't Pay". We pride ourselves on ethics, friendliness and 100% customer satisfaction.
Step4 : Some issue require time and efforts then you have to Pay the estimated amount by technical team before get it Fixed.
Do You Fix All Computer Issues through Remote Computer Support ?
Online computer repairs for all makes and models: Windows, Mac, Chromebook, Desktops and Laptop PC's.
Issues we resolve :
We configure wireless networks, printers and more. Self-Help is fun, but way too time consuming, and don't you have something better you could be doing?
We also provide Data Recovery Services for lost data on your Hard Drive, emails from Outlook, Thunderbird, Windows Live Mail etc. We're also G-Suite Experts, Gmail conversions and Google Drive Setups. We realize how important your time is and when Microsoft Outlook keeps you from getting your work done we have experts to go in and repair your Outlook inbox issues quickly, recover lost data and get you back in business fast. And all of this is handled remotely (while you watch, or go to lunch :)
Configure Tally ERP 9 .Net Remotely to Work from Home. Tally ERP 9 Server Configuration and clents configuration. Also supports all tally related issues.
Clean your PC of viruses and spyware

Setup email accounts, printers, and other peripherals for you.

Install and uninstall software, and perform local data backups
How Much Charges / Fees is for Remote Computer Repair / Support ?
Its Charges INR 200/- to 1500/-. Its all depend on time and efforts to resolve the issues.
How I can Pay - Payment Methods ?
You can pay through Mobile UPI App or directly transfer to our bank account BANK ACCOUNT DETAILS & UPI ID
Disclaimer: Any product names, logos, brands, and other trademarks or images featured or referred to within www.rcomputerclinic.in website are the property of their respective trademark holders. Moreover www.rcomputerclinic.in is neither associated nor affiliated with any of mentioned brands name in the website.. Logos and Images are being used only for representation purpose of post warranty laptop support and service. M/s R. Computer Clinic is an independent organization.